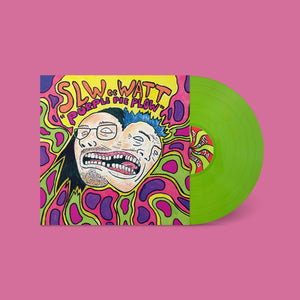 SLW cc Watt
Purple Pie Plow
Sale price Price $25.00 Regular price Unit price / per
• FIRST PRESSING ON LIMITED EDITION LIME GREEN VINYL
SLW cc Watt is an inspired collaboration between prolific singer/songwriter/illustrator Samuel Locke Ward and SoCal punk legend bassist/singer Mike Watt. After the head-spinning fun of 2021's Let's Build a Logjam and 2022's Real Manic Time, on the new Purple Pie Plow, the duo corral guests throughout the record: saxophonist Bob Bucko Jr, along with drummer Dean Clean, and guitarist Joe Jack Talcum from the sardonic punk band The Dead Milkmen.

Packing in 24 tracks in 40 minutes, the new SLW cc Watt album has 11 brief poetic 'spiels' (voiced by Watt) alternating between 12 charming short songs (sung by Locke Ward, backed by Watt, Bucko, Talcum, Clean). The collaboration happened via the Internet, with Locke Ward sending lyrics to Watt and demo song tracks to everyone to layer on their own parts.

Purple Pie Plow, inspired by T. Rex's unique mix of glam & psychedelia, does stylized takes on heavy subject matter. We're led on a journey through mob rule (haunting '50's-style ballad "A Face in the Crowd," the ultra-catchy "Help Me," the Motown swing of "Pray"), frightening fascism (New Orleans-flavored "Boring Out," doo-wop styling "Boots March," cow-punk "Lost To Time") and ecological horrors (free jazz freakout "Flowers Scream," power ballad "Toxic Sunrise"). Not to fear though as rising above the doom comes into play (acoustic/psych ballad "Children of the Stars," lonesome folk "Dragon Steed," noir jazz "Weeds of Your Dreams").


1. Children Of The Stars
2. Be The Bones
3. A Face In The Crowd
4. Help Me
5. What Is A Weed?
6. Real Bleak
7. Our Town
8. Burn It Down
9. The Beast
10. Here Comes The Flood
11. Pray

12. How Much Does It Cost?
13. Boring Out
14. Boots March
15. Lost To Time
16. Dragon Steed
17. Never A Parade
18. Flowers Scream
19. Weeds Of Your Dreams
20. Toxic Shock
21. Sundown
22. Roaring Back
23. Toxic Sunrise
24. Relaxed Fit
Cat. No. KRS738
Release date: July 21, 2023