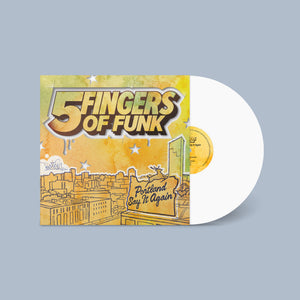 Five Fingers of Funk
Portland Say It Again
Sale price Price $25.00 Regular price Unit price / per
• FIRST PRESSING ON LIMITED EDITION WHITE VINYL
What did you do in 2020 when the coronavirus took over? While many Brooklynites nursed ailing family members and others nursed their first sourdough starters, rapper/producer Pete Miser dusted off an ancient hard drive and went back in time. Quarantining in Upstate New York with no Internet or phone service, Pete found purpose sifting through unreleased recordings of his long-abandoned ten-piece live Hip-Hop band, Five Fingers Of Funk. The surprise result is Portland Say It Again, the first Five Fingers Of Funk album with the original line up since 1998.
"We Were Big In The Nineties" kicks off the project with a bold edit of a live show recording and a shiny new horn arrangement over self deprecating reflections on legacy and middle age in the young man's game of Hip-Hop. The completion of one new song sparked creative enthusiasm from the entire band. Before long, fresh performances were being laid down in a collaborative frenzy that would yield a combination of repurposed analog recordings from the nineties alongside brand new material, all remotely recorded according to strict social distancing practices.

Album highlights include appearances by certified Northwest Hip-Hop legends Cool Nutz, Jumbo (of the Lifesavas), Bosko, Chillest Illest, and Mic Crenshaw along with true school icons Dres (of Black Sheep) and Jamalski. The songs range from the tongue-in-cheek posturing of "My Mom's Prius" and "You Already Know", to a letter for a young black boy in the midst of the George Floyd protests ("Shorty's Gonna Change The World"), to the title track – a sentimental homage to the Fingers' hometown, Portland, Oregon. Ever present is the vibrant full band instrumentation that left a lasting mark on live audiences across the country. Portland Say It Again reminds us that the funk may go into quarantine but it never dies.



1. We Were Big In The Nineties
2. My Mom's Prius
3. Til The Night Is Through
4. Without No Doubt
5. You Already Know

6. Stick's Theme
7. Kill Sound
8. Shorty's Gonna Change The World
9. Up Late
10. Portland Say It Again
Cat. No. KRS736
Release date: May 5, 2023