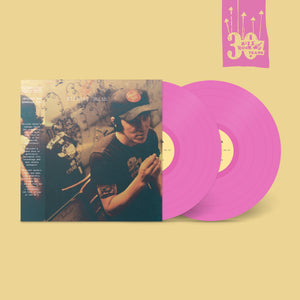 Elliott Smith
Either/Or: Expanded Edition - KRS30 PINK EDITION!
Sale price Price $30.00 Regular price Unit price / per
• KRS30 PINK SERIES OF SPECIAL PRESSINGS TO HELP CELEBRATE KILL ROCK STARS 30TH ANNIVERSARY
• HAND NUMBERED WITH A STICKER OF AUTHENTICITY
• LIMITED TO 91 COPIES
*** LIMIT ONE PER CUSTOMER ***
To commemorate the 20th Anniversary of Elliott Smith's best-selling and greatly beloved album, Either/Or, Kill Rock Stars proudly presents Either/Or: Expanded Edition. This album features the original tracks carefully remastered from the original source material under the supervision of Larry Crane, owner of Jackpot! Studios and archivist of the Estate of Elliott Smith. The second disc features five live multi-track recordings from the Yo Yo A Go Go Festival in Olympia, WA in 1997, as well as three previously unreleased studio recordings and one b-side gem. The double LP is packaged in a gatefold jacket that includes an insert of the original liner notes, a postcard of the original master tapes, and several never-before seen photos. This gorgeous collection is an essential listen for longtime fans and newcomers alike.


1. Speed Trials
2. Alameda
3. Ballad Of Big Nothing
4. Between The Bars
5. Pictures Of Me
6. No Name No. 5

7. Rose Parade
8. Punch And Judy
9. Angeles
10. Cupid's Trick
11. 2:45 A.M.
12. Say Yes

13. My New Freedom (live)
14. Pictures Of Me (Live)
15. Angeles (Live)
16. Some Song (Live)
17. Rose Parade (Live)

18. New Monkey (Keys)
19. I Don't Think I'm Ever Gonna Figure It Out (Remixed / Remastered)
20. I Figured You Out
21. Bottle Up And Explode! (Alternate Version)
Cat. No. KRS620
Release date: March 10, 2017