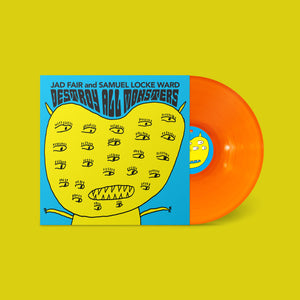 Jad Fair & Samuel Locke Ward
Destroy All Monsters
Sale price Price $25.00 Regular price Unit price / per
• FIRST PRESSING ON TERRIFYINGLY ORANGE VINYL
More spooky tales of vampires and devils from the leader of underground pioneers Half Japanese – Jad Fair – and new songwriting partner, the cassette culture savant Samuel Locke Ward.  Hold onto your wigs as you step off the path into the cemetery mist for a monster filled adventure into the unknown!

Jad Fair once told me there are only two types of songs, "love songs and monster songs" – and here we have 18 prime examples of the latter… Woo. I'm excited. Goblins, shrinking men, vampires, invisible men… none of your rubbish two-bit monsters here. Woo. I am stoked. A new collaboration between Jad Fair and Samuel Locke Ward! Wait… who?

Sam Locke Ward is a home taper and comic book zine maker from Iowa. He says, "I like chords with some high notes and some low notes in them but with an emphasis on the sad note."

Jad Fair (born June 9, 1954) is an American singer, guitarist, graphic artist, and founding member of lo-fi alternative rock group Half Japanese. Kurt Cobain once wrote, "With my headphones on, Jad and l share our little secret walking through shopping malls and airports", but he's been a long time dead now so we'll just enjoy that sweet imagery and move along.

Destroy All Monsters is like Happy Hearts, sort of not. It's minimal. It's beautiful. There is something that sounds like a xylophone. There is a lot of repetition, building tension. Many of the songs contain warnings, especially when it comes to being stalked by invisible men or walking with the walking dead. It is everything Jeff Wayne's War Of The Worlds is not. It is spooky, extra-spooky. It is totally engaging. If it was a book, it would be called unputdownable. But it's not a book. It's an album – and a very heart-warming, generously-given album too. There's no room for negativity here. Monsters often get a bad press, but not here. Jad and Sam see the beauty and delight in everything. Often, it feels like a High School Confessional, except most High School Confessionals do not concern themselves with monsters. If you're an old school Half Japanese fan, you may want to skip straight to the loopy playground chant of 'Pumpkin Head'. There again, you may not. This is not Half Japanese. This is Jad and Sam.



1. Dracula Has Risen
2. Invaders From Mars
3. Ain't It A Shame
4. The Crawling Hand
5. The Necronomicon
6. I Want Out
7. The Monster That Challenged The World
8. The Invisible Man
9. Book Of The Dead

10. The Walking Dead
11. Pumpkin Head
12. World That Did No Harm
13. Voodoo Doll
14. The Incredible Shrinking Man
15. Demon Devil Bat
16. Goblin Of The Castle
17. Destroy All Monsters
18. Invasion Of The Body Snatchers

Cat. No. KRS738
Release date: September 15, 2023