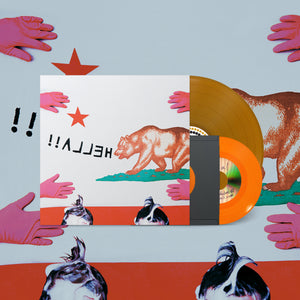 Hella
Hold Your Horse Is (Deluxe Reissue)
Sale price Price $30.00 Regular price Unit price / per
• ZACH HILL (DEATH GRIPS) and SPENCER SEIM (THE ADVANTAGE)
• 21 YEAR ANNIVERSARY REISSUE
• REMASTERED FROM THE ORIGINAL AUDIO SOURCE
• INCLUDES BONUS 7" w/ ORIGINAL DEMO

"... perhaps something like the holy grail of math rock."  – HHV Mag

"... a patchwork of clamor and melody that never disappoints." – The Morning News

Zach Hill and Spencer Seim of Hella were teenage bandmates at the turn of the century. Their 4 piece band was being courted by major labels, and they were on an accelerated trajectory that tragically imploded when their close friend and front man developed a taste for heroin. In a short time, they lost what they had been building throughout their high school years. The two of them carried on, expecting to find other band members and return to a 4 piece lineup.
Their style started to transform, organically attempting to fill the void left by the missing members. Zach was pushing the envelope rhythmically, and Spencer began to simultaneously play both rhythm and melody on the same instrument.
The band name "Hella," started out as a joke, but its meaning of "a lot" came to fit perfectly. Audiences were enthralled with the raw emotive intensity of Spencer and Zach's playing. In 2000, they sent out a single demo to their favorite record label, Kill Rock Stars.
It was accepted, and in 2002 Hold Your Horse Is was released under the KRS imprint 5 Rue Christine. For the next 7 years, they toured the world, and produced more than a dozen releases. Their live show was an athletic spectacle, the front row could expect to share their sweat and/or blood.
Spencer and Zach went on hiatus in 2008, briefly emerging to release 2011s critically acclaimed "Tripper."
Moving forward, 2023 marks the 21st anniversary of HYHI, which is being repressed as a commemorative re-release by KRS, including both the remastered original album and the 3 song demo which landed them their deal with KRS in 2001.




1. The D.Elkan
2. Biblical Violence
3. Been A Long Time Cousin
4. Republic of Rough and Ready
5. 1-800-Ghost-Dance

6. Brown Metal
7. Cafeteria Bananas
8. City Folk Sitting, Sitting
9. Better Get a Broom!

Bonus 7"
A1. The Republic of Rough and Ready (Demo)
B1. Biblical Violence (Demo)
B2. City Folk Sitting Sitting (Demo)
Cat. No. GER080
Release date: September 1, 2023