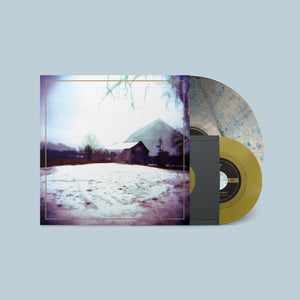 Horse Feathers
House With No Home (Deluxe Reissue)
Sale price Price $30.00 Regular price Unit price / per
• KRS 30 YEAR ANNIVERSARY REISSUE
• REMASTERED FROM THE ORIGINAL AUDIO SOURCE
• INCLUDES BONUS 7" w/ 2 PREVIOUSLY UNRELEASED TRACKS
• DELUXE GOLD FOIL STAMPED LP JACKET w/ PRINTED INNER SLEEVE

"Ultimately, that unworldliness may be Horse Feathers' greatest charm. Theirs is a life in the wilderness, not merely a sojourn." – Pitchfork

"Horse Feathers' 2008 album, House With No Home, is a lovely, lo-fidelity meditation, full of banjo, guitar, cello, saw and gentle vocal harmonies." – New York Times

On their second album, 'House With No Home,' Horse Feathers have distilled their sound into a brilliant statement of minimalist Americana. Peter and Heather Broderick's precisely arranged strings step cautiously in and around Justin Ringle's haunting vocal lines, and the economy of music is also reflected in the lyrics – a few evocative phrases tell rich stories, each word weighted and delivered with careful purpose. It is an album infused with rare power and emotion, restrained but always present, where the gaps between the notes can be as important as the notes themselves. 


1. Curs in the Weeds
2. Rude to Rile
3. Working Poor
4. Albina
5. A Burden

6. Helen
7. Father Reprise
8. Heathen's Kiss
9. Different Gray
10. This is What
11. Father

Bonus 7"
A1. Curs in the Weeds (Reprise)
B1. Working Poor (Live sessie voor het programma "Duyster")
B2. Father (Live sessie voor het programma "Duyster")
Cat. No. KRS710
Release date: April 8th, 2022